100 Gode Sange Til Festen

Du har sikkert allerede verdens bedste musiksmag i forvejen, samt playlister fyldt med god musik. Det kan dog alligevel godt være, at du har oplevet det pres der kommer, når man lige pludselig skal agere DJ til en fest.
Det er ikke sikkert, at festen har lyst til at høre soundtracket til Ringenes Herre eller Tears In Heaven med Eric Clapton, selvom man synes, at det var noget så dejligt at lytte til tidligere på dagen.
100 gode sange til fest og dans
Vi har fundet en liste med 100 gode sange, når der skal festes og danses, og som de fleste kan synge med på.
Så sidder du som musikstyrer/DJ til festen, og mangler inspiration til, hvad du skal sætte på, kan du i fremtiden hurtigt finde nogle gode numre på korkproppen.dk
Vi har selv fundet listen på DJ Chrashers, og de kommer med en masse gode eksempler i vilkårlig rækkefølge.
Er du til en fest med suppe, steg og is, kan du helt sikkert imponere med nogle af disse numre:
I Gotta Feeling – Black Eyed Peas
Yeah! – Usher Feat. Lil Jon & Ludacris
Sweet Caroline – Niel Diamond
You Shook Me All Night Long – AC/DC
Love Shack – The B-52's
Party Rock Anthem – LMFAO Feat. Lauren Bennett & Goon Rock
1999 – Prince
Celebration – Kool & The Gang
Low (Apple Bottom Jeans) – Flo Rida Feat. T-Pain
Get Down Tonight – KC & The Sunshine Band
Boom Boom Pow – Black Eyed Peas
Push It – Salt-N-Pepa
Dynamite – Taio Cruz
Jessie's Girl – Rick Springfield
DJ Got Us Fallin' In Love – Usher Feat. Pitbull
Brick House – Commodores
Mony Mony – Billy Idol
Give Me Everything (Tonight) – Pitbull Feat. Ne-Yo, Afrojack, & Nayer
Wild Thing – Tone Loc
Just Dance – Lady Gaga Feat. Colby O'Donis
Save A Horse (Ride A Cowboy) – Big & Rich
Fire Burning – Sean Kingston
Tik Tok – Ke$ha
Stayin' Alive – Bee Gees
OMG – Usher Feat. Will.I.Am
It's Tricky – Run-D.M.C.
Sexy And I Know It – LMFAO
I Like It – Enrique Iglesias Feat. Pitbull
Jump Around – House Of Pain
Poker Face – Lady Gaga
Hey Ya! – Outkast
California Girls – Katy Perry Feat. Snoop Dogg
Tootsie Roll – 69 Boyz
Pour Some Sugar On Me – Def Leppard
On The Floor – Jennifer Lopez Feat. Pitbull
Brass Monkey – Beastie Boys
The Time (Dirty Bit) – Black Eyed Peas
The Humpty Dance – Digital Underground
I Know You Want Me (Calle Ocho) – Pitbull
Shots – LMFAO Feat. Lil Jon
Your Love – The Outfield
In Da Club – 50 Cent
I Love Rock And Roll – Joan Jett & The Blackhearts
Sexy Chick – David Guetta Feat. Akon
Baby Got Back – Sir Mix-A-Lot
Let's Get Married (Remix) – Jagged Edge Feat. Run-D.M.C.
Jump On It! – Sir Mix-A-Lot
Get Low – Lil Jon & Da Eastside Boyz
All Summer Long – Kid Rock
Hotel Room Service – Pitbull
Ice Ice Baby – Vanilla Ice
Thriller – Michael Jackson
Don't Stop Believing – Journey
September – Earth Wind & Fire
Raise Your Glass – Pink
It Takes Two – Rob Base & DJ E-Z Rock
Moves Like Jagger – Maroon 5 Feat. Christina Aguilera
Livin' On A Prayer – Bon Jovi
My Humps – Black Eyed Peas
We Are Family – Sister Sledge
Hips Don't Lie – Shakira Feat. Wyclef Jean
Billie Jean – Michael Jackson
Sandstorm – Darude
Teach Me How To Dougie – California Swag District
One More Time – Daft Punk
Sexy Back – Justin Timberlake Feat. Timbaland
Yeah 3x – Chris Brown
Girls Just Wanna Have Fun – Cyndi Lauper
Stronger – Kanye West Feat. Daft Punk
This Is How We Do It – Montell Jordan
In The Ayer – Flo Rida Feat. Will.I.Am
Play That Funky Music (White Boy) – Wild Cherry
We Found Love – Rihanna Feat. Calvin Harris
We No Speak Americano – Yolanda Be Cool & DCUP
1, 2 Step – Ciara Feat. Missy Elliott
Holla Back Girl – Gwen Stefani
Family Tradition – Hank Williams Jr.
Single Ladies (Put A Ring On It) – Beyonce
Hot In Here – Nelly
Another One Bites The Dust – Queen
U Can't Touch This – MC Hammer
Club Can't Handle Me – Flo Rida Feat. David Guetta
Bust A Move – Young MC
Hey Baby (Drop It To The Floor) – Pitbull Feat. T-Pain
Footloose – Kenny Loggins
Old Time Rock And Roll – Bob Seger & The Silver Bullet Band
Brown Eyed Girl – Van Morrison
Sweet Home Alabama – Lynyrd Skynyrd
Some Kind Of Wonderful – Grand Funk Railroad
You Dropped A Bomb On Me – The Gap Band
The Grease Megamix – Olivia Newton & John Travolta
Shout – The Isley Brothers
Twist And Shout – The Beatles
The Twist – Chubby Checker
Y.M.C.A. – The Village People
The Train (Come On And Ride It) – Quad City DJ's
Macarena – Los Del Rio
Cupid Shuffle – Cupid
Cha Cha Slide – DJ Casper
The Hustle (My Eyes Don't Cry No More) – Stevie Wonder
Kilde: http://www.djcrashers.com/top-...
Tak til avXperten
Der skal lyde et stort tak til avXperten, som via deres støtte har gjort denne artikel mulig. AvXperten har et af Danmarks mest prisstærke udvalg af opladere, kabler, radioer, gadgets og computertilbehør. Du kan blandt andet finde et F-connector stik i deres sortiment.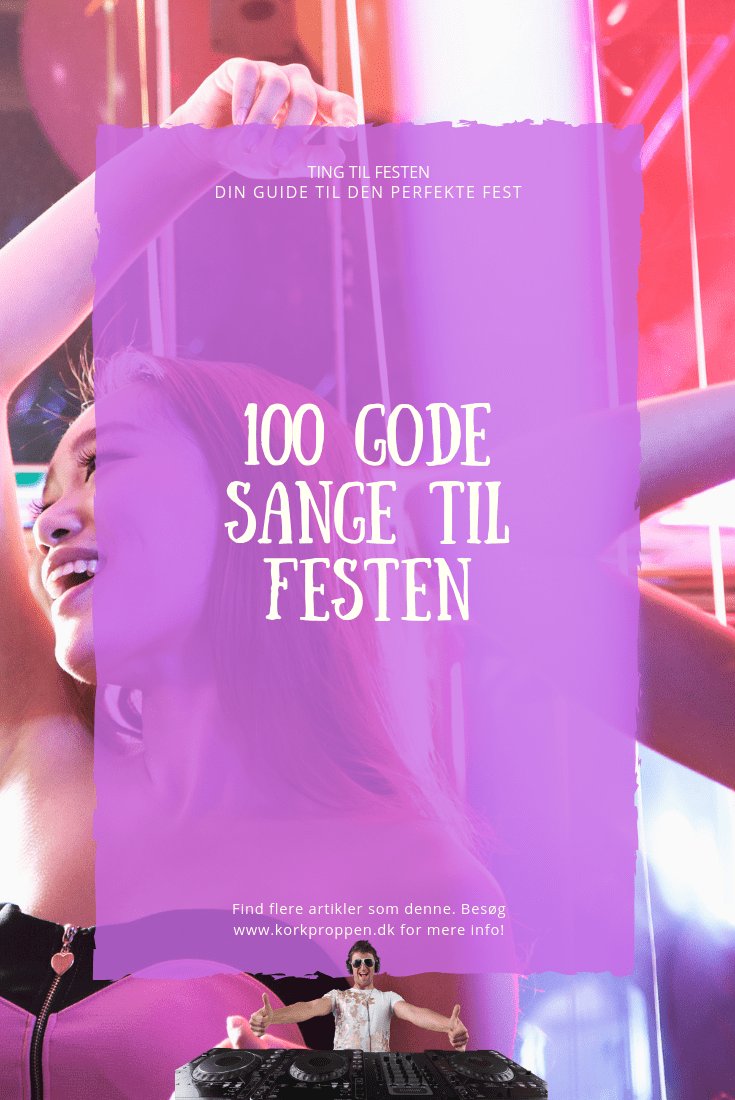 Image: Canva